The Company
---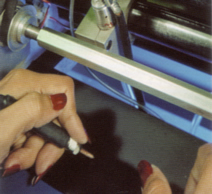 KRL/Bantry Components, Inc., which began in 1970.
KRL offers precision and power wire wound resistors on a worldwide basis and is known worldwide as a supplier of quality components with on-time delivery. The KRL customer base includes: the computer, power supply, health, avionics, instrumentation, telecommunications and space industries. We are proud of our global reputation and worldwide recognition. By offering a commitment to manufacturing quality, continuously renewed product design and innovation, customer service and a "can-do" attitude, KRL continues to earn and maintain customer and vendor loyalty. Our roots go back to 1948 when Mr. Perry Sr. opened the Daven Company as General Manager, and his subsequent founding of RCL Electronics in 1960, from which no fewer than four "spin-off" resistor companies were born. Two companies are local to New Hampshire, KRL being one of the two. RCL employed over 600 employees locally under the administration of Mr. Perry Sr., and eventually went down to less than 40 employees after Mr. Perry Sr. retired in 1969. Under the direction of the Perry family, RCL was known to be the world's leader in Precision wirewound Resistors, both for sales and innovation.
Mr. Perry came out of retirement in 1985, recruited Mr. Perry Jr., and purchased KRL Electronics, Inc. Over the past several years, KRL has maintained an aggressive approach to the migration of electronics from "through-hole" component printed circuit board (PCB) mounting to the new "SMT" surface-mount configuration for wirewound resistors.
Facility expansions in 1998 saw a 214% increase in manufacturing space from 7,000 square feet to 17,000 square feet. Administration, Sales, Marketing, Finance, Engineering, Purchasing, Personnel, Shipping, Receiving, Warehousing, and Manufacturing functions are all housed in our 17,000 square foot plant. Manufacturing technologies employed by KRL include: coil winding, resistance welding, percussive arc welding, resistance trimming calibration, thermoset transfer molding, epoxy and cement potting, conformal coating, hermetic sealing, lead stamping and lead forming. Laboratory facilities provide the capability for: burn in, life test, thermal shock, moisture resistance, and temperature coefficient testing to monitor resistor function, quality and design. A fully functional machine shop offers milling, grinding, welding, metal heat-treating and lathe work support manufacturing and design functions. In Q3-1993 the entire manufacturing facility was redesigned and renovated to create a better workflow.
KRL received ISO-9001 approval in the 4th quarter of 1997. The maintenance of this approval focuses on "quality at the source," a philosophy of building quality in from the beginning of the manufacturing process rather than depending on inspection for quality at the end of the process. This approval is a requirement for selling in The European Economic Community, and is fast becoming required by the larger US manufacturers.
Employees Several KRL employees' careers date back to RCL and employment under Mr. Perry Sr., for up to 40+ years. The knowledge base of KRL's employees is extensive, with a tremendous level of cross training in the many resistor-manufacturing processes. The State of New Hampshire-Business Visitation Program opened the door for KRL to participate in various programs involving DRED, DES, the New Hampshire Job Training Council, and the OSHA, including the OSHA safety section's "Consultation Program". Mr. B.J. Perry Jr. was appointed to Governor Merrill's Worker's Compensation Study Committee because of his devotion to his employees, his commitment to worker's safety, and the company's prospects for future employment and company expansion in New Hampshire.
KRL/Bantry Components History
Formed in 1970 and located on Bridge Street,Manchester, NH Primary product line: Precision Wirewounds and Temperature Sensors
Moved to Grenier Airpark 1980 (100 Bouchard Street, Manchester, NH). Added Power Wirewounds
Reorganized by Bernard J. Perry 1985 and purchase in 1986 Added complete Surface Mount Line and Ceramic Encased Power Wirewounds
Background:
Bernard J. Perry: Owned and operated RCL 1960-70; VP of the Daven Company late 50's; General Manager Lable Manufacturing early 1950's. Increased KRL manufacturing capacity of existing wirewound products and addedspecialty wirewound and metal film product lines for the:
Telecommunication Industry
Computer Industry
Test and Measurement Industry
Automotive Industry
Defense Industry
July 31, 1992, ownership transferred to Bernard J. Perry Jr. (Executive VP/General
Manager 1989 to July 1992)
March 1,2013 ownership transferred to Verna M. Perry